Additional Information: Competitions open to members of all professional dance associations affiliated to the BDC. Limited tickets will be sold on the day, but seats cannot be guaranteed. Tickets and/or tables of 10 persons or more maybe booked through the NCDTA General Secretary, 2 Southlands, Stockton Road, Ryhope, Sunderland. SR2 0LS. Prize money £150 per winning dance and £25 per couple all finalists. Closing date 19 December 2017 email dance names to secretary@ncdta.com Details and rules from General Secretary 0191 2682372. Scripts available £1 each following teaching session.
Venue: Lancastrian Suite, Dunston, Newcastle Upon Tyne, NE11 9JR
Doors open:  8.45 am (Pros/members) 9.15 am (non members)
Competition starts: 10.00 am
Finish time approx: 7 pm
Admission: available to all

Ticket Information: £12 each – NCDTA members £4 each
Contact: Cora Ann Leonard on 0191 268 2372 for tickets and to enter dance names. Please enclose a stamped addressed envelope, cheques payable to NCDTA Ltd.  Closing date is 19th December 2017
Teaching of new dances: same day
Food Available: refreshments available to purchase. Only alcoholic drinks purchased on the premises may be consumed.
Parking: free
2017 Winners
Classical Winner – Speedwell Saunter
Ellen Harrison and Kelly Sloan
Music : Richard Keeling , CD Rebel Heart, Track 16 'Gee Baby'
Latin Winner – Butterfly Jive
Barry Earnshaw and Beverley Murch-Fowkes
Music: Cliff Richard, CD Just Fabulous Rock & Roll, Track 2 ' Butterfly'
Modern Winner – Leo Quickstep
Barry Earnshaw and Beverley Murch-Fowkes
Music: Zing Went The Strings Of My Heart. CD Elegant Dance Vol. 3.
2016 Winners
Classical Winner – Teesdale Tango
Ellen Harrison and Kelly Sloan
Music: No Time Like Old Time – Track 6 – Autumn Leaves
Latin Winner – Rivelin Rumba
Neil and Lesley Marshall
Music: Larry Green – Cheek to Cheek – Track 10 'Kingston Town'
Modern Winner – Buckingham Quickstep
Stuart Perry and Beverly Howard
Music: Larry Green – Have A Nice Day – Track 2 – 'C'est Magnifique'
2015 Winners
Classical Winner - Washington Tango
Neil and Lesley Marshall
Music: Hisao Sudo, Elegant Dance Volume 4: Track 3 " He's a Pirate"
Latin Winner – Star Ruby Rumba
Stuart Perry and Beverly Howard
Music: Ronnie Ross – CD Instrumentally Yours CDTS 206 – Track 6 La Playa
Modern Winner – Tango Tyrell
James Hatton and Lauren Phillips
Music: Ultimate Ballroom Collection CD2 Track 15: "The Capricciosa"
2014 Winners
Classical Winner
County Gavotte
Neil and Lesley Marshall
Latin Winner
Sunstone Cha Cha Cha
Stuart Perry and Beverly Howard
Modern Winner
Sapphire Tango
Stuart Perry and Beverly Howard
2013 Winners
Classical Winner:
Tiger Eye Tango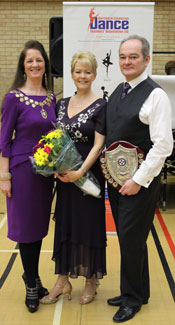 Stuart Perry and Beverly Howard

Music: Empress Orchestra – Blackpool My Blackpool – The Music Now and Then 1 WRCD 5035 CD1- Track 27 Ecstasy
Latin Winner:

Rumba Serenata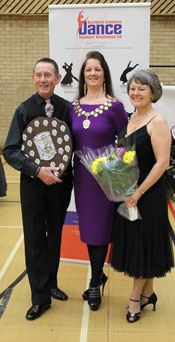 Barry Earnshaw and Beverley Murch-Fowkes
Music: Hugo Strasser Die Tanzlatte 1991 LC0193 Track 5 ~ Insime
Modern Winner:


Syracuse Waltz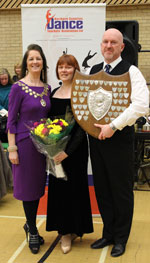 David Belshaw and Karen Kelly
Music: Empress Orchestra – By the Ballroom Clock – CD 1010125 – Tracl 6  Waltz of My Heart