Additional information: PLEASE NOTE THE 2018 EVENT WAS CANCELLED DUE TO SNOW. IT WILL NOT BE RESCHEDULED. NEXT EVENT 17TH MARCH 2019.
 Lunch break from 1 pm -2 pm. Please note there is no cafe on site. Teas and coffees will be available. Vending machine in foyer to purchase crisps, cold drinks and chocolate. Closing date 5 March 2018. www.natd.org.uk
Venue: Sandiacre Friesland Sports Centre, Nursery Avenue, Sandiacre, Derbyshire, NG10 5AE
Doors open:  9.15 am
Competition starts: 10 am promp

Finish time approx: 6 pm
Admission: available to all
Ticket Information: Spectators single £12.50 each. NATD members £11 each. Competitors £12 each (includes entry fee and free programme)
Programmes £1
Contact: Tickets, seating and entry forms are now available from the NATD office, please purchase tickets before 26th February2018 and book your seats. Make cheques payable to NATD Ltd enclosing a stamped addressed envelope to Mrs Lyn Foster, General Secretary, NATD, 44-47 The Broadway, Thatcham, Berkshire, RG19 3HP. Email address info@natd.org.uk telephone 01635 868888 / 226889. info@natd.org.uk
Teaching of new dances: same day
Food Available: No cafe. Food and drink are only available from a vending machine in the foyer. 
Parking: free
2017 Winners
Classical Winner – Paradise Blues
Arranged by Barry Earnshaw and Beverely Murch-Fowkes
Latin Winner- Morton Mambo
Arranged by Eric and Lynda Dodd
Modern Winner – Caister Quickstep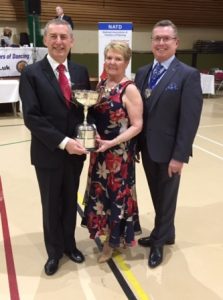 Arranged by Eric and Lynda Dodd
2016 Winners
Classical Winner
Evening Star Saunter arranged by John and Ann Rainey
Tony Gilbert Sound C'est Si Bon – CDTS 231 – Track 18  A Lovely Way to Spend an Evening
Latin Winner
Marlborough Mambo arranged by Stuart Perry and Beverly Howard
Music: Richard Keeling – You're My World CDTS 154 Track 9 'Hoots Man'
Modern Winner
Champagne Foxtrot arranged by David Howker and Deborah Catlow
Music: The Very Best of Doris Day – Track 10 – Cheek to Cheek
2015 Winners
Classical Winner
Hattyboo Blues arranged by John and Ann Rainey
Latin Winner
Jet Stone Jive arranged by Stuart Perry and Beverly Howard
Modern Winner
Waltz J'Adore arranged by Paul and Caroline Dellar
Ron Lane Memorial Trophy winners Paul and Caroline Dellar
2014 Winners
Classical Winner:
Blue John Swing
Arranged by Stuart Perry and Beverly Howard
Latin Winner:
Rhinestone Rumba
Arranged by Stuart Perry and Beverly Howard
Modern Winner:
Eternity Waltz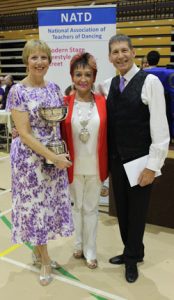 Arranged by Paul and Caroline Dellar
2013 Winners
Classical Winner:
Tango Tenuta


Ian and Leah Hardaker
Music: Elegant Dance 4
– Track 3 – 'He's A Pirate'
Latin Winner:
Red Jasper Jive


Stuart Perry & Beverly Howard

Music: Larry Green – Have a Nice day CDTS198 – Track 18 'Shake Rattle and Roll'
Modern Winner:


Pink Diamond Foxtrot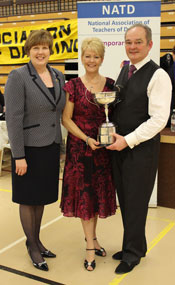 Stuart Perry and Beverly Howard
Music: Larry Green CDTS189 – Jump Shout Boogie – Track3 'Haven't Met You Yet'