2022 details still to be confirmed
2020 Additional Information: The day will commence at 9.15 am with the 3-dance medallist event, followed by the Inventive competition at 10.30 am. The sections are Classical Sequence and Latin Sequence.
Entries for the Inventive Dance competition should be sent by email to Louise Sampson. These should arrive on or before 1 March 2020. Dances should be entered under their respective rhythm and, at this point, not by title. CDs can only be accepted for musical requirements.
Venue: West Park Leisure Centre, Wilsthorpe Road, Long Eaton, NG10 4AA
Doors open: 8.45 am ~ ISTD Medallist 3 dance competition starts at 9.15 am
Competition starts: Inventive starts 10.30 am
Finish time approx: 3 pm
Admission: available to all
Ticket Information: (cheques payable to ISTD) £14 non members. £13 ISTD Members (valid membership card to be produced)
Contact: Enquiries, entries and ticket requirements to Megan Garner [email protected] telephone (0)20 7377 1577 . Closing date 1st March 2020.
Teaching of new dances: same day
Food Available: small café on site
Parking: free
2020 Winners
Classical section – Blue Peter Blues
Arranged by Tony and Tina Higgins
Latin section – Rochetser Rumba
Arranged by Stuart Perry and Beverly Howard
2019 Winners
Modern Winner : Sierra Foxtrot
Arranged by Barry Earnshaw and Beverley Murch-Fowkes
Latin Winner : Hylton Jive
Arranged by Stuart Perry and Beverly Howard
2018 Winners
Classical Winner : Gypsy Swing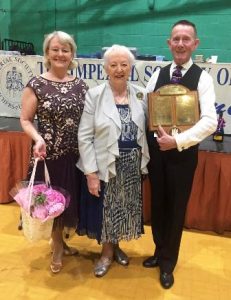 Arranged by Barry Earnshaw and Beverly Murch-Fowkes
Modern Winner : Mendoza Waltz
Arranged by David Howker and Deborah Catlow
2017 Winners
Classical Winner : Bollinger Blues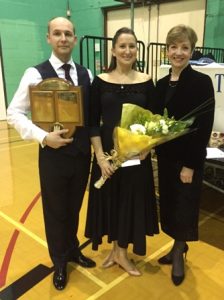 Duncan and Hannah Trever
Music: Vince Hill, The Ultimate Collection, Track 13 "The Importance of Your Love"
Latin Winner: Jive Seventeen
Kay Fairgrieve and Barbara Harvey
Music: Rick Vito Casa Musica Latin Mega Hits2 CM CD 510- CD 2 Track 11 The Ways of SIn
2016 Winners
Latin Winner: Caiprioska Cha Cha Cha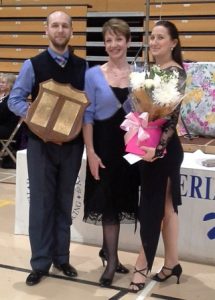 Duncan and Hannah Trever
Music: Trijnte Oosterhuis, Luna Do Brasil CMCD037 – Track 8 – 'Another Saturday Night'
Modern Winner: Promise Waltz
Kris Turner and Daniella Trueman
Music: Empress Orchestra, Always and Forever, EO01 – Track 10 'Always & Forever'
2015 Winners
Classical Winner: Ashleigh's Two Step
Kay Fairgrieve and Louise Sampson
Modern Winner: Rainbow Quartz Foxtrot
Stuart Perry and Beverly Howard
2014 Winners
Classical Winner: Mississippi Blues
David Howker and Deborah Catlow
Latin Winner: Jive Fifty
Yvonne Hall partnered by Jonathan Reed
2013 Winners

Classical Winner:
Imperial Two Step

Shelly O'Hara and Scot Harwood

Music:

Latin Winner:
Vista Mar Cha Cha Cha
Scott Harwood and Shelly O'Hara

Modern Winner:


Red Velvet Tango

Barry Earnshaw and Beverley Murch-Fowkes