2021 event details to be confirmed.
This is the 2020 event information
Dear Teachers, Inventors and Dancers, unfortunately it is with great sadness that due to the current unprecedented times we find ourselves living in with regards to the COVID-19 pandemic, the Associated Board of Dance has taken the decision to cancel the Inventive Sequence competition scheduled for Sunday 16th August 2020.
As an association we will always view the health and well-being of our members and dancers as our priority. Due to Government guidance and advice on social distancing we feel it would be prudent to reschedule this event for next year.
Please be assured we will be holding our event in 2021 and look forward to welcoming you all for a great day's dancing and competition. Stay safe, stay well and keep dancing!
Peter Nash, ABD Ballroom Director
Gaynor Fielding, Ballroom I President, Head of Sequence Faculty
Scott Blant-Harwood, Vice Head of Sequence Faculty
Additional Information: Prize money £100 winner and £20 each finalist. Social dancing throughout the day. Refreshments available.
Venue: Festival Hall, Kirkby-in-Ashfield, NG17 7DJ
Doors open: 10 am
Competition starts: 11 am
Finish time approx: 6 pm
Admission: available to all

Ticket Information: £15 spectators each and £7.50 each Competitors
Contact: for more details contact scottblantharwood@gmail.com 07789312747 For ticket info or any further information required.
Teaching of new dances: same day
Food Available: available on site
Parking: TBC
2020 Event Cancelled due to Coronavirus
2019 Winners
Classical Section – Stoneacre Saunter
Arranged by Stuart Perry and Beverly Howard
Modern Section – Tinks Waltz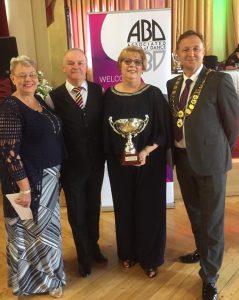 Arranged by David and Jayne Harwood
Latin Section – Ravenscroft Rumba
Arranged by Stuart Perry and Beverly Howard