Additional information:  Three usual competitions plus a special party dance competition.
Venue:  TBC
Doors open:  9.30 am
Competition starts: 10 am
Finish time approx: around 6 pm
Admission: available to all
Ticket Information:
£TBA spectators
£TBA non member competitors
UKA members free on production of current membership cards
Contact: Sue Burroughs on 01934 621 281 for tickets and dance entries. email sbdancecentre@gmail.com.
Teaching of new dances: same day
Food Available: Cafes within the building
Parking: pay by the hour
2018 Winners
Classical Winner – Bathams Blues
Arranged by Graham and Avril Watkins
Modern Winner – Bella Foxtrot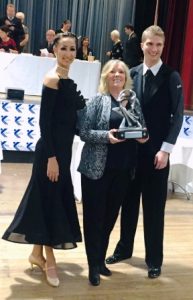 Arranged by Adam Bynert and Bethany Rushby
Latin Winner – Alpha Jive
Arranged by Barry Earnshaw and Beverley Murch-Fowkes
Fun Dance winner  – Highland Fling (Swing)
Arranged by John and Anne Rainey
2017 Winners
Classical Winner – Southfields Saunter. Arranged by Ellen Harrison and Kelly Sloan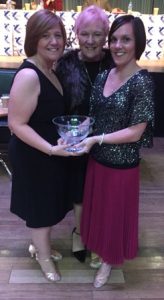 Latin Winner – Penderyn Cha Cha Cha arranged by Duncan and Hannah Trever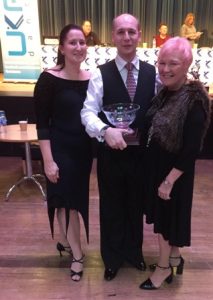 Modern Winner – Highclere Foxtrot arranged by Stuart Perry and Beverly Howard
Party Dance winner – Twenties Christmas Swing arranged by John and Ann Rainey
2016 Winners
Classical Winner – Sandringham Swing arranged by Stuart Perry and Beverly Howard
Modern Winner – Highgrove Foxtrot arranged by Stuart Perry and Beverly Howard
Latin Winner – Goldenrain Rumba arranged Ian and Sue Webster
Party Dance winner – Christmas Cracker cha Cha arranged by Ian and Sue Webster 
2015 Winners
Classical Winner
Serenata Blues
Arranged by David Howker and Deborah Catlow
Modern Winner
Royal Sapphire Foxtrot
Arranged by Stuart Perry and Beverly Howard
Latin Winner
Mango Bossa Nova
Arranged by Ian and Sue Webster
2014 Winners
Classical Winner
Swinburne Swing
Ellen Harrison and Kelly Sloan
Modern Winner
Phillyrea Foxtrot
Ian and Sue Webster
Latin Winner
Citrine Cha Cha
Stuart Perry and Beverly Howard
2013 Winners
Latin Winner:

Chestnut Cha Cha

Ian and Sue Webster
Music: Tony Crane ~ The Ultimate Latin Album 2 – WR2CD-5026 – Track 18 "Chilly Cha Cha"
Classical Winner:

Black Pearl Tango


Barry Earnshaw and Beverley Murch-Fowkes
Music: Elegant Dance Vol 4 – Track 3 '"He's A Pirate"
Modern Winner:
Fleetham Foxtrot


Ian and Leah Hardaker
Music: Elegant Dance 4 ~
Track 5 ~ "Moondance"