Adult Sequence Dance Festival will once again immediately follow the Children's Dance Festival on Saturday 16th October.
If you are a Modern Sequence Dancer or Dance Teacher why not come along to Blackpool and enjoy dancing at one of the countries finest venues, the Empress Ballroom.
During the 3 day festival, you will see some of the UK's finest dancers taking part in the British Sequence Dance Championships.
Whether you come for one day, or all three days, you will be guaranteed first-class Sequence Dancing with some of the countries leading MC's.
Your afternoon MC's will be: Sunday, TBC 2. pm and Tuesday, TBC 2.15 pm Afternoon Tea Dance tickets are only £5 each.
Your evening MC's from 6.30 pm will be:
Sunday– TBC
Monday– TBC
Tuesday– TBC
The Inventive Dance Competition takes place on Monday and you will have the opportunity to be one of the first to learn the new dances direct from the winners on the same day.
www.blackpooldancefestival.com

Venue: Empress Ballroom, Winter Gardens, Blackpool
Doors open: TBA
Competition starts: TBA
Finish time approx: TBA
Times Subject To Change
Admission: available to all
Ticket Information:
£31 Adult Daily Ticket no seat per person £20 per child
£60 Season Ticket no seat (3 days) per person
£5 Tea Dance Afternoon Ticket
Reserved Seating – additional charge applies
All can be purchased from Dance Festival Office prior to the Festival commencing and then from the Winter Gardens Box Office during the Festival.
Contact: Contact the Dance Festival office for ticket application forms, advance group bookings and competition entry forms on 01253 625252 or download them from the website when available.
Teaching of new dances: Will be the same day as the event
Food Available: small café within the building

Parking: pay per hour
2021 Winners
Classical Winner – Empire Tango
Arranged by Barry Earnshaw and Beverely Murch-Fowkes
Latin Winner – Mimosa Cha Cha Cha
Arranged by Duncan and Hannah Trever
Modern Winner – Matie-Celene Waltz
Arranged by Eugene Barbare and Lorraine Heron
2020 CANCELLED DUE TO CORONAVIRUS
2019 Winners
Classical Winner – Grand Floridian Gavotte
Arranged by David Smith and Danielle Wallis
Music: Dancebeat 26. Don't Stop Believin – Track 5 With One Look
Latin Winner – St James Jive
Arranged by Stuart Perry and Beverly Howard
Music: Richard Keeling. In The Mood CDTS 181 – Track 5 In The Mood
Modern Winner – Edith's Waltz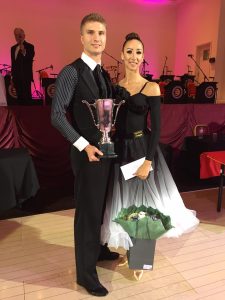 Arranged by Adam Bynert and Bethany Rushby
Music: Theme from Forest Gump – Andrea Spadaroi
2018 Winners
Classical Winner: Gondolier Gavotte
Arranged by Andrew Davies and Clare Rushby
Latin Winner: Malvern Mambo
Arranged by Ellen Harrison and Kelly Sloan
Modern Winner: Waldorf Waltz
Arranged by Robert and Louise Aldred
2017 Winners
Classical Winner– Titan Tango
Arranged by Andrew Davies and Clare Rushby
Latin Winner – Spring Hill Samba
Arranged by Ellen Harrison and Kelly Sloan
Modern Winner – Milwaukee Waltz
Arranged by Robert and Louise Aldred
2016 Winners
Classical Section : Taittinger Tango
Duncan and Hannah Trever
Music: Bryan Smith & His Orchestra. Old Time and Sequence Favourites CDTS016 Track 24 Blue Tango
Latin Section : Meadowfield Mambo
Ellen Harrison and Kelly Sloan
Music: Richard Keeling – Imagine – Track 21 Do You Remember
Modern Section : Wisconsin Waltz
Robert and Louise Aldred
Music: Snow. Empress Orchestra
2015 Winners
Classical Section : Houston Tango
Arranged by Robert and Louise Aldred
Latin Section : Crystal Samba
Arranged by Stuart Perry and Beverly Howard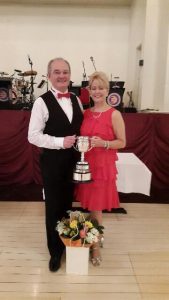 Modern Section : Waltz Amabile
Arranged by Ian and Leah Hardaker
2014 Winners
Classical Sequence
Red Spinel Saunter
arranged by Stuart Perry and Beverly Howard
Latin Sequence
Rumba Missouri
arranged by Robert and Louise Aldred
Modern Sequence
Fantasy Foxtrot
arranged by Andrew Davies and Clare Rushby
2013 Winners:
Classical Sequence
Tango Arizona
Robert and Louise Aldred
Latin Sequence
Gemini Rumba
Lee Dudman and Linda Dudman
Modern Sequence
California Foxtrot
Robert and Louise Aldred