2021 event details to be confirmed.
This is the 2020 event information
Additional information: For further information contact Rita Carradus 07710 444241 or 01202 630173. Closing Date for entries 31st October 2020. Special room rates are available – £TBC for double room 2 people sharing with bed and breakfast and £TBC for a single room bed and breakfast. Restaurant is now open until 9 pm for anyone wanting to book dinner. Telephone 01252 838000 and state you are attending Rita Carradus Function in the Canal Suite 1/11/2020.
Venue: Lakeside Country Club, Frimley Green, Camberley, Surrey, GU16 6PT,
Doors open: 9.15 am
Competition starts: 9.45 am
Finish time approx: 6 pm
Admission: available to all
Ticket Information: £TBC each contact Rita Carradus on 07710 444241 or email rita.a.ball@hotmail.co.uk
Contact: online entry at www.martinbird.net/ada-unsworth-inventive.html
Teaching of new dances: during the day
Food Available: tea/coffee and light refreshments available all day. (strictly no food or drink can be brought into the premises)
Parking: free car park
2020 Winners
Classical Section – Spreydon Saunter
Arranged by Colin and Karen Brewer
Modern Section – Bertie's Foxtrot
Arranged by Eileen Pratt
Latin winner – Scarlet Rumba
Arranged by Philip and Gaynor Evans
2018 Winners
Classical Section – Swaledale Saunter
arranged by Ellen Harrison and Kelly Sloan
Modern Section – Countdown Quickstep
Arranged by Graham and Avril Watkins
Latin Winner – Christchurch Cha cha Cha
Arranged by Stuart Perry and Beverly Howard
2017 Winners
Classical Section – Black Country Blues
Graham and Avril Watkins
Modern Section – Let's Waltz
Ray Fenton-Storey and Lissia Giles
Latin Section – Rumba Mounda
David and Geraldine Roberts
2016 Winners
Classical Section – Winter Saunter
Arranged by John and Ann Rainey
Music: Larry Green – Cheek to Cheek – CDTS 193 – Track 14 Cheek to Cheek
Modern Section – Coral Bay Waltz
Arranged by David and Geraldine Roberts
Music Colombia Music Orchestra – Strictly Ballroom Dance CD Number 1 – Track 1 Vivre Pour Vivre
Latin Section – Kaylee Rumba
Arranged by Lissia Giles and Ray Fenton-Storey
Music – The Ultimate Latin Album 5 WR2CD – 5038 – Track 3 Nobody Knows
2015 Winners
Classical Section – Lace Agate Swing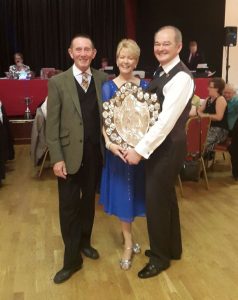 Arranged by Stuart Perry and Beverly Howard
Modern Section – Silver Fir Foxtrot
Arranged by Ian and Sue Webster
Latin section – Manhattan Mambo
Arranged by Duncan and Hannah Trever
2014 Winners
Latin section – Bowness Cha Cha
Arranged by Neil and Lesley Marshall
Music: Richard Keeling CDTS 210, Stranger on the Shore, Track 13 'Coco'
Classical section – Selby Swing
Arranged by Ellen Harrison and Kelly Sloan
Music: David Last Profiles Track 1 'Chitty Chitty Bang Bang'
Modern Section – Beryl's Waltz
arranged by John and Ann Rainey
Music: Richard Keeling CDTS 158. A Perfect Night For Dreaming, Track 9 ' A Perfect Night for Dreaming'
2013 Winners:
Latin Section – Rock Crazy Jive
Michael Stevenson and Heather Jackson
Modern Section – Hoabie Quickstep
Lissia Giles and Martin Bird
Classical Section – Tiffany Saunter
Stuart Perry and Beverly Howard