2021 online event details now confirmed visit http://www.martinbird.net/inventive-comp.html#
Additional information: SPECIAL ONLINE EVENT ONLY DUE TO CORONAVIRUS. General dancing throughout the day and in between the competition rounds. The scripts of the three winning dances will be on sale at the completion of the competition and teaching of the winning dances. Please note only food purchased on the premises can be consumed.
Venue: Whitby Sports and Social Club, Dunkirk Lane, Chester Road, Ellesmere Port, Cheshire, CH65 6QF
Doors open: 9.45 am
Competition starts: 10.30 am
Finish time : 5.30 pm
Admission: available to all
Ticket Information: Allied members – £TBC on production of current membership card. Spectators – £TBC each. Competitors £TBC per couple.
Contact: For tickets and entry forms contact Helen Blackburn 0795 7423875. Seats can be booked
Teaching of new dances: same day
Food Available: light snacks
Parking: £1.50 all day
2020 Winners
Latin Winner – Juliet Jive
Arranged by Barry Earnshaw and Beverley Murch Fowkes
Classical Winner – Tachbrook Tango
Arranged by Julie Buchanan and Linzi Buchanan Brown
2019 Winners
Latin Winner – Adelphi Rumba
Arranged by Barry Earnshaw and Beverley Murch Fowkes
Music: As if We Never Said Goodbye – Larry Green – CDTS 249 – Thanks for the Memories
Classical Winner – Saunter Lemare
Arranged by Barry Earnshaw and Beverley Murch Fowkes
Music: Moonlight and Roses David Last CDTS 079
Modern Winner – Lima Tango
Arranged by Barry Earnshaw and Beverley Murch Fowkes
Music: Sombras – Richard Keeling – A Perfect Night CDTS 158
2018 Winners
Latin Winner – Belvedere Samba
Arranged by Duncan and Hannah Trever
Classical Winner – Ellesmere Saunter
Arranged by Barry Earnshaw and Beverley Murch-Fowkes
Modern Winner – Blackwood Waltz
Arranged by Keiran Kelly and Laura Tudor-Williams
2017 Winners
Latin Winner – Phoenix Rumba
Arranged by Barry Earnshaw and Beverly Murch-Fowkes
Classical Winner – Trueman Tango
Arranged by Ellen Harrison and Kelly Sloan
Modern Winner – Loxley Tango
Arranged by Barry Earnshaw and Beverly Murch-Fowkes
2016 Winners
Classical Winner – Greystones Gavotte
arranged by Ellen Harrison and Kelly Sloan
Modern Winner – Warwick Tango
Arranged by Stuart Perry and Beverly Howard
Latin Winner – Malbec Rumba
Arranged by Duncan and Hannah Trever
2015 Winners
Classical Winner
Tesla Tango
Arranged by David Howker and Deborah Catlow
Modern Winners
Westlee Waltz
Arranged by David Howker and Deborah Catlow
Latin Winners
Rumba Allure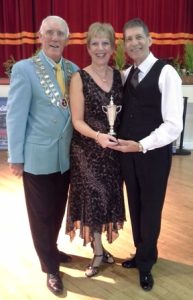 Arranged by Paul and Caroline Dellar
2014 Winners
Classical Winner
Tango Addict
Paul and Caroline Dellar
Music: Richard Keeling – Strangers On The Shore (CDTS210) Track 5 "Turtletauben Tango"
Latin Winner
Alliance Rumba
David Howker and Deborah Catlow
Music: Richard Keeling, Feeling Good CDTS 204 Track 4 "Begin The Beguine"
Modern Winner
Jade Quickstep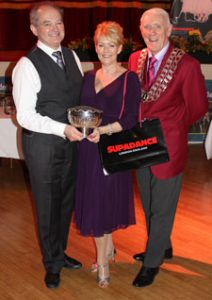 Stuart Perry and Beverly Howard
Music: Richard Keeling Dance With Me CDTS 194 Track 11 "Zing Went The Strings of My Heart"
2013 Winners
Latin Winner

Hinoki Bossa Nova

Ian and Sue Webster
Music: Jane McDonald – DMGTV013 You Belong To Me ~ Track 8 'Blame it on the Bossa Nova'
Classical Winner

San Antonio Saunter

Robert and Louise Aldred
Music: Ballroom Nights 4 , CD-Z4104, CD2 Track 1- 'Love is the Sweetest Thing'

Modern Winner
Kelso Quickstep

Ellen Harrison and Kelly Sloan
Music: Ultimate Balroom 2 – Track 13 – It Don't Mean a Thing