2021 event details to be confirmed.
This is the 2020 event information
Additional information: This event is part of the IDTA congress. Tickets on sale from the IDTA office 01273 685 652 from May 2020. Prize money – Winners: £200 plus £50 expenses and £50 per couple finalists. Modern, Latin, Classical and Fun Dance sections.

www.idta.co.uk

Venue: Floral Hall, Southport Theatre & Convention Centre
Doors open: 8.45 am
Competition starts: 9.30 am
Finish time approx: 5 pm
Admission: available to all
Ticket Information: Competition IDTA members Free
Spectator non members £TBA, Non members competitors £TBA

Contact: Tickets and competition entry forms available from, Stephanie at the IDTA office on 01273 685 652, email s.james@idta.co.uk or download from website at www.idta.co.uk from May 2020.
Closing date June 2020
Teaching of new dances: same day
Food Available: limited selection from bar
Parking: pay by the hour

2020 Online Winners
Classical Winner – Crossfire Tango
Arranged by Gwen Cole
Modern Winner – Waltz Lalique
Arranged by Paul and Caroline Dellar
Latin Winner – Cha Cha Perdita
Arranged by Karen Anderson
2019 Winners
Classical Winner – Thornbridge Tango
Arranged by Stuart Perry and Beverly Howard
Modern Winner – Tango 47
Arranged by Tracey White and Andrea Wortley
Latin Winner – Salsa Sizzle
Arranged by Darren and Anita Kelly
Fun Dance – Samba for Sue
Arranged by Tracey White and Andrea Wortley
2018 Winners
Classical Winner – Waferfront Waltz
Arranged by Barry Earnshaw and Beverley Murch-Fowkes
Latin Winner – Rumba Memoire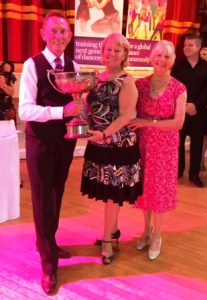 Arranged by Berry Earnshaw and Beverly-Murch-Fowkes
Modern Winner – Emerald Quickstep
Arranged by Tracy White and Andrea Wortley
Fun Dance Winner – Boogie Bosa Nova
Arranged by Tracy White and Andrea Wortley
2017 Winners
Classical Winner – Morningtown Blues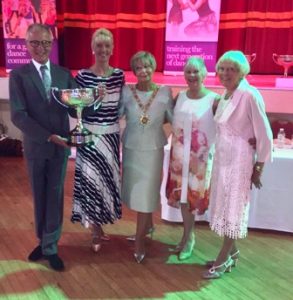 David Howker and Deborah Catlow
Music: The Best of The Seekers – Morning Town Ride
Modern Winner – Parklands Foxtrot
Barry Earnshaw and Beverly Murch-Fowkes
Music: Casa Musica Vol 8 : Nat King Cole Track 10 'That's You'
Latin Winner – Jive Together
Alan and Eunice Lam
Music: Tony Gilbert, 1930's The Age of Elegance CDTS 220 Track 18 'Just a Gigolo'
2016 Winners
Classical Winner – Saunter Samsara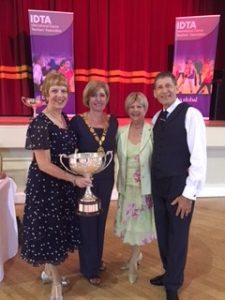 Arranged by Paul and Caroline Dellar
Modern Winner – Interval Waltz
Arranged by Graham and Avril Watkins
Latin Winner – Tambora Mambo
Arranged by Alan and Eunice Lam
2015 Winners
Classical Winner
Lola Gavotte
Arranged by Paul and Caroline Dellar
Modern Winner
Daiquiri Foxtrot
Arranged by Duncan and Hannah Trever
Latin Winner
Red Ruby Jive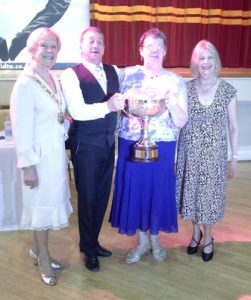 Arranged by Peter and Yvette Harris
2014 Winners
Classical Winner:
Teal Tango
Arranged by Ellen Harrison and Kelly Sloan
Modern Winner:
Angelite Waltz
Arranged by Stuart Perry and Beverly Howard
Latin Winner:
Moonbeam Mambo
Arranged by Peter and Yvette Harris
2013 Winners
Latin Winner:

Rumba Cascade
Barry Earnshaw and Beverley Murch-Fowkes
Music: Empress Dance band – Hushabye Outcast – Track 13 'I Dreamed A Dream'
Classical Winner:
Red Rose Gavotte
John and Ann Rainey
Music: Sydney Thompson – Old Tyme Hallmark 305172 – Track 2 'Gavotte From The Gondoliers'
Modern Winner:
Blue Topaz Foxtrot
Stuart Perry and Beverly Howard
Music: Empress Orchestra – Blackpool My Blackpool – The Music Now & Then WR2CD5036- CD1 – Track 13 'Somewhere In Time'