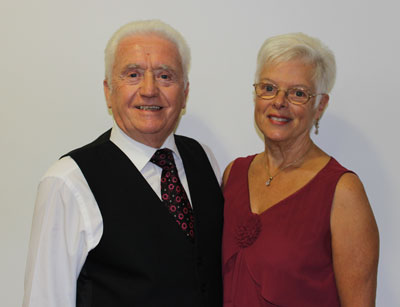 Ian & Sue Webster : Sue started dancing at the age of 2, with tap & ballet. Ian started at the age of 12 with Ballroom, Latin and Old Time. They met at and were trained by the late Bob Dale. Ian qualified in 1959 and Sue a few years later, and are qualified in Ballroom, Latin, Classical, Freestyle, Rock and Roll.
They have trained formation teams, and on one occasion won with their Junior 4 couple formation team at the Butlins Filey Dance Festival. They run a small, but busy Dance School in Ashton-under-Lyne Lancashire.
Sequence dances are held Monday, Wednesday & Thursday evenings, along with private lessons, tea dance & beginner's classes held during the day & early evening.
Their involvement in Inventive Competitions started in 1992, and since then they have been successful with over 60 prize winning dances, including Sweet Bay Salsa, Bramble Bossa Nova, Mulberry Glide and The Alpine Stroll.
More information. Contact No. 0161 330 0909