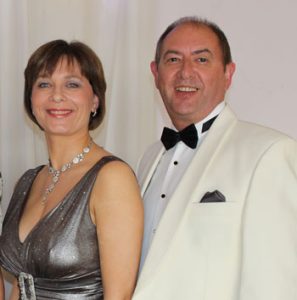 Steven Shaw & Helen Blackburn danced in Inventive Dance Competitions from 1999 to 2012 and had 103 winning dances together. Their popular dances include the Feta Foxtrot, Tayside Tango, Saunter Shiraz, Hamilton Swing, Trafalgar Two Step 2012, Glastonbury Glide, Valentina Cha Cha Cha and Ventura Waltz.
Before moving into the inventive dance arena Helen won both the British Amateur Modern Sequence and the British Professional Classical Sequence Championships and is a triple Carl Alan Award recipient. She previously wrote the 'Sequence' pages for 'Dance Today' magazine and with her husband Steven they are triple Classique De Danse award winners and both received the Carl Alan award in 2013 for their Outstanding Classical Sequence Partnership.
They are qualified in Ballroom, Latin and Classical sequence and are Championship adjudicators. They are available for private tuition at all levels, including beginners, and run a Modern Sequence Dance each Thursday at Ossett War Memorial Community Centre in West Yorkshire. Throughout the year Steven and Helen also organise Modern Sequence Dancing holidays nationwide.
If you would like more information contact them direct on 0795 7423 875